Theatre Royal Schools Project, Autumn 2011
Beginning in September, three schools near Attleborough have undertaken the challenge of Norwich Theatre Royal's opera project.
During the Autumn term the children from Chapel Road School, Morley Primary School and Rocklands Primary School will have access to a range of professional musicians and directors to help them to create their own version of La Bohème.
Each group will perform their efforts on the main stage at Norwich Theatre Royal on Sunday 13th November 2011 at 2:00pm.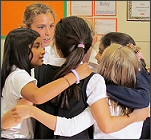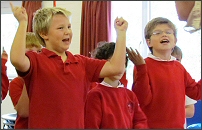 Garage Trust, Summer 2011
The Garage Trust summer production was a glamtomime "Snow White". It was part of the Garage's overall summer programme which worked with 150 young people, aged between 8 and 19, from a wide range of backgrounds.
Activities included singing, dancing, stage make-up and working alongside experienced production teams learning technical stage management and costume design and making.
The young people participated in 10 days of workshops with professional leaders and an artistic director which culminated in three performances on 19/20 August 2011.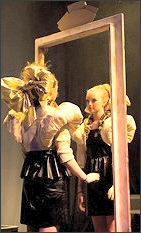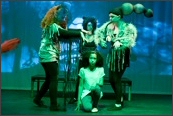 Britten Sinfonia Norfolk Cluster Composition Project, April 2011
Now in its second year, the Norfolk Cluster Composition Project worked with a group of schools in and around Wymondham, consisting of Wymondham College and Wymondham High School and five of their feeder primary schools; Wreningham, Wicklewood, Spooner Row, Barnham Broom and Barford.
A member of the Britten Sinfonia and workshop leader Hannah Conway visited the primary schools, introducing Year 5/6 pupils to Dies Natalis (Day of Birth), a beautiful song-cycle by 20th Century English composer Gerald Finzi. The children discovered Finzi's music and its themes of new awakening, birth and transition before writing their own songs based on the themes.
The children had some special help with their composing from musicians from Year 7 at Wymondham College and High School.
The 170 children who took part in the project performed their new song-cycle, accompanied by members of the Britten Sinfonia on 7th April at Wymondham High School. The Britten Sinfonia string quintet also gave a performance of Dies Natalis, sung by tenor Ben Johnson, especially for the students.
Golden Sunlight (mp3) – composed by the children and sung by Hannah Conway.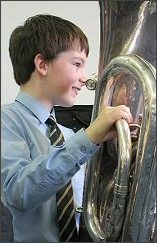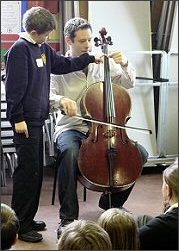 Theatre Royal Schools Project, Spring 2011
The Spring project involved workshops at The Hall School (A Specialist College for Communication and Interaction), Old Catton Junior School and WhiteWoman Lane Junior School who presented mini-productions of Gianni Schicchi by Puccini.
"The children thoroughly enjoyed it and are singing at home and singing around the school. It's a gateway to free that inner talent that they have and they are beginning to feel free to vocalise more and move around more in other classes. It's been a marvellous opportunity."Cecilia King, The Hall School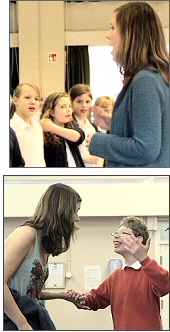 Norfolk and Norwich Music Club Schools Project, March 2011
This year's project involved workshops led by the Chroma Ensemble on the theme of Romeo and Juliet. The project ran from 2nd to 4th March with six Norwich schools participating; Bignold Primary, Tuckswood Primary, Bluebell Primary, West Earlham Junior, Cringleford V A Primary, and Eaton Primary.
The music featured Sergei Prokofiev's Romeo & Juliet Orchestral suites, Leonard Bernstein's Symphonic Dances from West Side Story, and Pyotr Ilyich Tchaikovsky's Overture Fantasy – Romeo and Juliet.
The project culminated in a performance at the John Innes Centre on Friday, 4th March at 1:15pm