Theatre Royal Norwich Schools Project, Autumn 2012
Beginning in September, three schools in Norwich have undertaken the challenge of Norwich Theatre Royal's opera project.
During the Autumn term the children from Barford, Bawburgh and St Peter's primary schools will have access to a range of professional musicians and directors to help them to create their own version of "Rusalka", an opera by Dvořák.
The children will perform their versions of "Rusalka" on the main stage at Norwich Theatre Royal on Sunday 25th November 2012 at 2:00pm.
HighTide Festival Theatre's HighTide Academy, Summer 2012
The HighTide Academy three-week summer programme at The Cut in Halesworth gives young people from the East of England the opportunity to work with professional practitioners and explore different approaches to performance, text and creating new work. Each 6-day intensive masterclass focuses on a different area of performance and develops young people's creative skills in a professional rehearsal environment. All courses end with a final performance and a sharing of the work created during the week.
The Academy courses run between Monday 23rd July and Saturday 18th August 2012 with a performance each week. More information at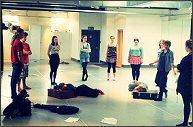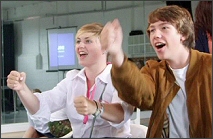 Theatre Royal Bury St. Edmunds, April 2012
The Theatre Royal Bury St Edmunds offers 11 different classes each term-time week for children aged 5-12 years. Called 'Theatre Makers', the classes are designed to improve confidence, improve communication skills and engender team engagement. Each of the eleven groups chose a theme each to focus upon: The Weather; King Arthur; Great British Food; Dickens; Music; The RAF; Wimbledon; The BBC; British Film; The Monarchy; Historical Events.
Each year the groups come together to perform at the Theatre Royal over two nights in front of an audience, many of who won't have visited before. The 2012 performance, called Best of British, was performed on the 16th and 17th April.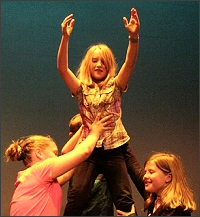 Theatre Royal Norwich Schools Project, Spring 2012
The Spring project involved workshops at Cavell Primary, Bignold Primary and Lakenham Primary who presented mini-productions of The Nutcracker by Tchaikovsky, using Matthew Bourne's Nutcracker as inspiration.
The schools performed their work in front of over 1000 friends, family and supporters on Mother's day, March 18th 2012.