Theatre Royal Norfolk Schools - Two Projects (£2,000)
The Spring 2014 project (£2,000) involved children from West Earlham Junior, Henderson Green and St Francis of Assisi Catholic Primary Schools. All three schools have a high proportion of pupils with special educational needs/ disabilities. The children created their own versions of Mozart's Magic Flute which English Touring Opera included in their spring tour and which many of the children later attended.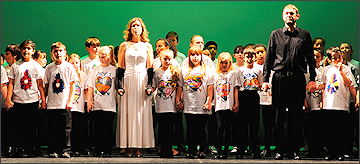 The Garage Trust (£2,500)
The Garage Trust provides the largest programme of creative summer activities for young people aged 7-25 in Norfolk. The grant in this case was given to support the Artistic Director for the summer show and for a support worker who helped the more vulnerable young people taking part.
Norwich Puppet Theatre (£750)
Grant towards Norwich Puppet Theatre's Beauty and the Beast project enabling them to secure an Arts Council Grant for a project which spanned 2014 and 2015.
Grant towards choir and artists for a trip to Beaugency and to fund ukulele classes for 7 & 8 year olds.
Earlham Early Years (£1,500)
Grant towards a project to use NORCA Sistema to deliver music sessions to nursery children.
High Tide Festival (£1,000)
Grant towards a collaboration with The Garage to commission a new play The Reprobates.
Shakespeare Schools Festival (£1,800)
Grant towards this national festival's Norfolk visit supporting 300 children from 12 local schools age ranging from primary to sixth form to present their own versions of Shakespeare's plays.
Slanted Dance at Clare School (£200)
Grant to this special needs school towards a dance production based around Swan Lake
Waveney Valley Orchestra (£200)
Grant towards workshop sessions.
The Trust contributed towards the performance of a newly commissioned community opera The Six Swans in Suffolk. Students from Aldeburgh Primary School and the Alde Valley School Leiston participated as a choir.
Theatre Royal Norfolk Schools
The Autumn 2014 project ( £2,000), worked with children from St Mary's Junior, Pulham Primary and Diss Junior schools. The project was based on Matthew Bourne's adaption of 'Lord of the Flies' – a departure from the usual opera based theme. The resulting production, entitled 'Stranded', focused on the conflict between the instinct to live by the rules and value for the good of the group and the conflicting instinct to gratify one's immediate desires and obtain supremacy over others. It was clearly aligned to the objects of the Trust, providing a performing arts experience to disadvantaged young people. In addition to the work of the Norfolk Schools Project a further 800 children were involved in dance workshops. 20 of these children were selected to participate in the professional performance at the Norwich Theatre Royal in November 2014.