Slanted Dance (Parkside £2,000, Hall School £900)
In 2016 we supported two projects set up and staffed by Slanted Dance. Parkside School for children with complex educational needs performed Duck Pond – a project based on the idea of transitions based on Tchaikovsky's Swan Lake. The workshops adopted an inclusive approach which valued every participant and their verbal and non verbal communication.
The Hall School is a Specialist College for Communication and Interaction which caters for pupils with severe learning difficulties aged between 4 and 19 years. The Head teacher and staff gave full and committed support to the project Cafe Monet Rouge, based on Puccini's La Boheme. The performance took place on 24 March 2016.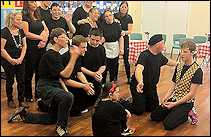 Theatre Royal Norfolk Schools (£2,000)
The Spring project involved children from Trowse Primary, Poringland Primary and Harford Manor (a special school catering for children with complex special educational needs) working with Matthew Bourne's New Adventures Company. The children created their own version of Tchaikovsky's Sleeping Beauty performed at the Theatre Royal on 13 March 2016.
"When I first heard that we were doing it I was a bit scared but when we got stuck in I was really enjoying the project."
"Definitely a once in a life time opportunity and it was fun."
"It meant a lot to me and my family and school as it was a massive opportunity."
Participants
The Garage Trust (£2,000)
The Garage provides a comprehensive programme of creative summer activities for young people aged 7-25 in Norfolk in July and August each year.
Aldeburgh Music - Celebration of schools of Music (£2,000)
This project is the result of a long standing partnership between Aldeburgh Music and Suffolk County Council and engages nearly 1,500 students from 44 county maintained schools in Suffolk. The Trust grant was given towards the cost of workshops during the final day.
Sistema Norwich - Norfolk Wild Life Trust (£2,000)
Sistema proposed a project in partnership with Norfolk Wildlife Trust that enabled children to develop composition skills, composing music used in a special concert at the Cley Reserve in June 2016.
Total Ensemble champions inclusive theatre for people of all ages and has many members with disabilities and additional needs. They continue to work on building the team as well as developing and expanding their artistic and outreach plans.
Norwich Philharmonic Society - Mahler Young Musicians (£950)
Norwich Philharmonic celebrated their 175th anniversary with a performance of Mahler's Symphony No.8 The Symphony of a Thousand. As part of this project they put on a full day workshop for 70 young musicians.
The Triorca Trust organised an interchange of young musicians between Norwich, Novi Sad and Koblenz with the intention of fostering international understanding as all three cities had been subject to significant bombing in time of conflict. The donation was given to subsidise young musicians who would not otherwise be able to take part.
The Keeper's Daughter(£300)
A youth theatre summer school project held at Diss High School.